Anytime Toffee, Coffee & Gift Shop
5701 Third Ave in Downtown Ferndale
ON THE CORNER OF THIRD & VISTA
Monday-Friday 8-5
Saturday 9-3
Have A Favorite Chocolate?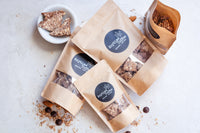 Standard Kraft Bags
With three sizes to choose from, we have toffee for all your needs. Get a small bag to try a new flavor or keep in your purse. Our medium bags are perfect for hostess gifts or just having on hand. But the large bags are where it's at, you don't want to run out of Anytime Toffee! These kraft bags are resealable and keep Anytime Toffee fresh for months.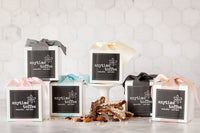 Customizable Specialty Boxes
Anytime Toffee comes standard in kraft bags, however we also offer all flavors and sizes in our specialty boxes in either kraft or white, with customizable ribbon. Just order your favorite flavors and sizes as usual, choose "specialty box" in the drop down menu, then leave a comment in the notes at checkout if you want to add a special gift message that we will include in your order!
Anytime Toffee, Coffee & Gift Shop
5701 Third Ave
Ferndale, WA
Monday-Friday 8-5
Saturday 9-3
Sunday, closed
are you a retail shop owner?